Gordon: I think you could also give the Holes to the offensive line, defensive line and special teams.
Chico: And I'll say what you've said to me countless times, G. All the Giants have to do is win. Just. One. Game.
Gordon: Oh no. I want them to go 0-16. I want the #1 Draft pick. I want to see Ofer Hole ads in December.
Chico: And save some for Tom Coughlin. He's gonna need a box after this season.
Gordon: A padded one, I think.
Chico: Anyway, welcome back to WLTI. Thanks for being a part of our week and allowing us to be a part of yours.
Gordon: And if we're going to have a party, we can't have it without Mr. Jason Block. Welcome aboard.
Jason: (steps up to the Mic) check 1..2...check check
Gordon: We haven't done Songbook in a while. We come up with a subject and we put songs in to fill it. For example...


Give us a song dedicated to this year's crop of Voice and X Factor singers.

Jason: "Radio Gaga" by Queen
Chico: "Starz in Their Eyes", by Just Jack
Gordon: And now for the true cynic,'Waiting for a Star to Fall' by Cabin Crew
Jason: Thats a win
Gordon: And Video Killed the Radio Star by the Buggles.
Jason: Double Win.
Chico: And anything from the Reality Killed the video Star record is a triple. Next one...


Brad Culpepper. He had everything, Including a big mouth.

Jason: Shut Up by The BEP
Gordon: The Shut Up song, R. Kelly
Jason: Or A Little Less Conversation by Elvis
Chico: Ugly Kid Joe, "Everything About You". Google it, kids.
Gordon: Next one...


It's kids. It's food! Give me something for Masterchef Jr. as they are the future makers of your meals. Be scared.

Chico: Food, Glorious Food from Oliver!, Eat It by Weird Al, Eat the Rich by Aerosmith. And in honor of Alexander, this week, Devo, "Whip It".
Gordon: And of course, Anything from the Jackson 5, or Menudo, such as ABC
Jason: Junk Food Junkie by Larry Groce
Gordon: Great song. Next?
Chico: Next up...


The Battle Of The Decades. The official non-official playlist.

Gordon: We didn't start the fire, Billy Joel
Jason: Of course, I Lost on Jeopardy by Weird Al
Chico: Throwing it back to R. Kelly, "The Champ"
Jason: Abba - The Winner Takes It All
Gordon: Through the Years - Dan Hill
Jason: All I do Is Win - DJ Khaled... I am hip
Chico: Hip like 2009 hip?
Jason: Still relevant
Chico: Who sang "Winner" with JT?
Jason: Jamie Foxx and TI
Chico: Thank you.
Gordon: Next one...


Give me a UFC Soundtrack song.

Jason: Mama Said Knock You Out -LL Cool J
Gordon: Let the Bodies hit the floor
Jason: Girlfight - Brooke Valentine (for the coaches this year)
Chico: Fighter, Christina Aguilera
Gordon: What doesn' Kill You Makes You Stronger, by Kelly Clarkson
Chico: Last one...


Big Money Week on TPIR and LMAD

Jason: Calloway - I wanna be rich
Chico: "Look At Me Now", by That Guy,
Gordon: Millionaire - ABC
Jason: Billionaire - by Travie/Bruno Mars
Chico: "Money" by the Kingsmen That's What I Want. And of course, Anything by the Cash Money Millionaires.
Gordon: Good Time - Paris Hilton
Jason: NO!
Gordon: Betcha can't wait for the link!
Chico: ANYTHING BUT THAT!!!

http://www.youtube.com/watch?v=UBGXRfqfzeM

Chico: Can't unsee!
Jason: MY EYES!
Chico: Break. Now. Gordon. BAD Gordon. No Home Game.
Gordon: You. No. Fun.

(Brought to you by Survivor: Government. 16 elected Government officials compete for the budget money they are not going to see from their state. Besides, they need something to do, because they're not doing anything now.)


Jason: OUCH
Gordon: Tell me I'm wrong.
Jason: You aren't.
Chico: Nope. It's the perfect picture of Munchausen Symdrome. Break it so I can fix it. But that's another show. Now it's time for a good old fashioned caption contest. We call it, Snaps.
Jason: (snaps fingers)
Chico: And we start with this...




Chico: Carlito Olivero, A contestant on X Factor who, as alluded to before, Was in Menudo before auditioning.
Jason: I hope people don't remember my stint in Menudo, oh wait, no one does.
Chico: Making Menudo 2: El-X-tric Boogaloo
Gordon: When I'm done, Im going to see how my buddy Javier Colon is doing. Next one...




Jason: Miss PCH 2013 is making one of her scheduled appearances
Chico: I'm going to hang this check next to my Justin Bieber poster.
Gordon: If your budget keep going down, we're going to do Win a Plinko Chip a week for life.
Chico: Next up...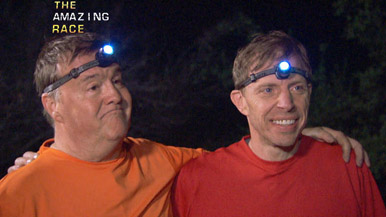 Chico: They are actors, And to prove it, they will now act as aliens stranded at the Pit Stop.
Jason: B-I-N-G-Oh did I not read the clue again?
Gordon: We're looking for intelligent life on this planet, Beam us up, because we're not worthy to join it. Next one...




Gordon: It's not the Velvet Teddy Bear. its the Velvet Teddy Bar of Lard.
Chico: Apparently Idol is getting serious with the winners. Champs who fail to chart are getting boiled alive and served to Nigel lythgoe.
Jason: Instead of waxing lyrically, he was just waxing
Chico: Next...




Chico: One family has already given up on the Giants and has moved on to the Rangers.
Jason: At least this family supports a winning NY team
Gordon: Guaranteed to get more wins than the NY Giants.
Chico: We gon' play, Eli!
Gordon: Last one, and I don't think we can do an anniversary episode without this...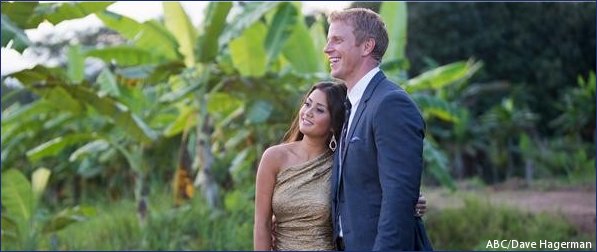 Jason: Love is awesome
Gordon: We're doing the next live show during the afterparty.
Chico: A few more days, these kids will be married, the best man will find the Mother, And we will have one less thing to talk about on this show. Ooooone less... Bell to answer...One less, Egg to fry!!! One less couple to scuttle after...
Gordon: Okay, we need a break before we grow feelings.
Chico: We'll be back.

(Brought to you by We Are Just Men! Ever think about what goes on in the mind of a man whose sitcom has been cancelled? Yeah, neither have we, but Betty White has!)

Gordon: Aw.
Jason: Nice one
Gordon: And with that we go to a Speed Round...now! DWTS - Will Mark Ballas live to regret Julianne Hough's commentary?
Jason: Yes I think so
Gordon: I think she's in trouble. Who's in Trouble on Survivor?
Jason: Brad's wife Monica
Gordon: Could be a whole lot of family love. Big Money Weeks - any big money?
Chico: I think we get one winner
Gordon: I'll say 2. Any email?
Chico: Nope
Gordon: Oh well. Well if you do want to send email, send it to WLTI@gameshownewsnet.com, or do your Facebook, MySpace, and You tube or Twitter thing
Jason: Yup yup
Chico: Next week, money. Money. Yeah, yeah. Plus a brand new show to review. We'll hook you up. See what I did?
Gordon: I saw it. So for me, Chico and Jason, this is Gordon: saying Game Over and Spread the Love.